On Saturday, Thomas Tuchel recorded their first and heaviest defeat so far in the season as they were mauled by West Bromwich Albion, but they (Chelsea) bounced back strongly in a spirited performance against Portuguese giants, FC Porto as they beat them by 2 goals to nil, a feat the coach attributed to some words he said to motivate his team to win.
Thomas Tuchel who was speaking to BT sport revealed that immediately after their painful defeat, he saw the response to the loss at the dressing room.
READ THIS ALSO: Chelsea denies Atletico Madrid a place in the Champions League Quarter finals after beating them on 3-0 aggregate
"I saw the response immediately after the game in the dressing room and the next day. It was not a big concern. We had a big loss; it was our responsibility and we accepted it – me included" he added.
Tuchel further went on to reveal that to motivate his (Chelsea) team, he told them that they were ready to respond and that was what did the magic tonight as they beat FC Porto by 2 goals to win the game.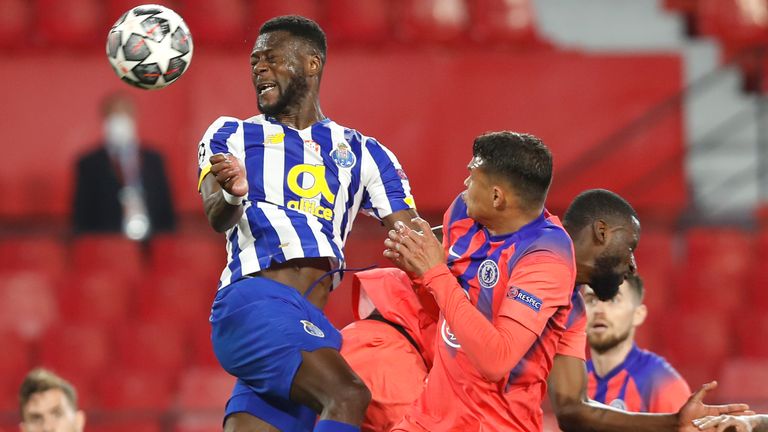 Thiago Silva goes mid-air to challenge a ball.
"We were ready to respond, that is what we said, and this is it. There will always be setbacks in sport and the biggest challenge now was the bounce back. We have had a lot of wins together, a lot of excellent results, now we had a loss and now we have a reaction after a loss together and that brings us closer and increases the trust" he explained.
Meanwhile, today, after a difficult few days, normal service resumed at Seville's Ramon Sanchez Pizjuan Stadium. A victory and a clean sheet as they returned to winning ways.
This was another professional and assured European performance to follow the ones Chelsea produced in both legs of their last-16 tie with Atletico Madrid.
"It was important to have a clean sheet and a win straight after that defeat" Thomas Tuchel indicated.